iRobot Roomba 690 Robot Vacuum
We already have a Top Robot Vacuum's post on our site that you definitely check out. It has our reviews of a number of different units that we think you will like in a range of prices and functions.
If you have not checked out our original post above then you are missing out on the amazing uses and abilities of these little robotic devices. Let's face it, one day the robots may take over but right now we can use them to do the monotonous day to day tasks that we hate to do.
A robot vacuum cannot (yet) clean quite as well as a person. At least not
that we have seen. But, they can keep your floors cleaner on a day to day basis which can greatly increase the time between when you will actually have to vacuum yourself.
Just think, what can you us all that extra time for? Spend more time with your family? Watch your favorite movies while one of the best rated robot vacuum's does all the work?
Another, side benefit we found with these robot vacuums is that they are a lot of fun to chase pets with. Before you write a bunch of complaints about how cruel this is we have found that most animals like the chase game. Robot vacuum's are not super loud devices like a standard vacuum. The noise is not overly scary to your pets. As long as you chase and then let them chase it is a game.
All kidding aside, it is probably not the best idea to use a robot vacuum as a play toy for your pet. Especially a larger dog, you don't want the pet to decide to chew up your robot vacuum. But … you can always chase the kids…..
Today we wanted to discuss one special robot vacuum, the iRobot Roomba 690 Robot Vacuum with Wi-Fi connectivity. It even works with Alexa!
Let's talk a little bit about the Roomba 690.
First of all this robot vacuum works with Alexa. Imagine just saying "Alexa, vacuum my floor" and the Roomba 690 takes off doing its thing.
The Roomba 690 works on both carpets and floors. It does not work that well on thick shag type carpets but works fine on the lower pile carpets. Floors are no problem.
The Roomba 690 has a 3-stage cleaning system with dual multi-surface brushes. What does that mean to you? It means the 690 can pick up everything from small particles to large debris. Large debris does not include a piece of firewood or large cardboard box. Hey, keep the size of the unit in mind when think about what it can pick up. Let's not go crazy here.
The unit actually has dirt sensors that help the device determine what areas of the floor or carpet require more attention. You would not expect anything else from a top rated robot vacuum would you?
Do you have an obstacle course for a house? Also, not a problem for the iRobot Roomba 690 vacuum cleaner. It has a full suite of sensors that help guide the robot under and around furniture to help thoroughly clean your floors.
We mentioned that this robot vacuum can clean floors and carpets. It does, it has an adjustable cleaning head that easily adapts its height to effectively clean most surfaces. You don't have to do a thing.
You can control and program the Roomba 690 using the internet and a phone app to help you control and program it. Another fun phone app to control your Roomba like a remote control car if you want. Great for those days when it is raining outside and you are bored.
It has a run time of about 60 minutes which should be enough for most houses. If not, no problem, it can recharge and start again. It also has an automatic scheduling device that enables you to have it clean on your schedule, even if you are not home. Leave to a dirty floor and come home to a clean one.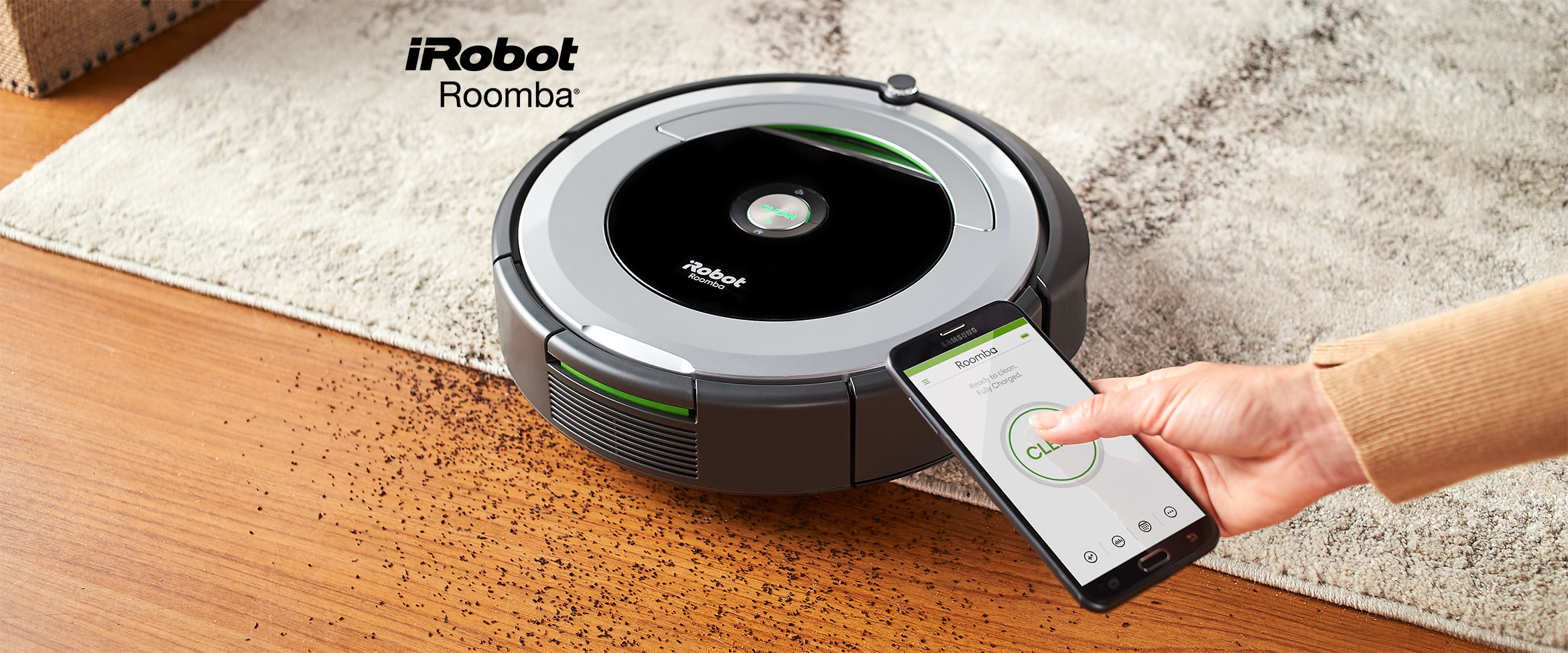 We cannot overstate the 'engineered performance' of the iRobot Roomba 690. The dual surface brushes and vacuum suction will remove all sizes of particles from your floors. You WILL BE surprised by the performance of the iRobot Roomba 690, after all iRobot is one of the highest quality robot vacuums out there.
Dual multi-surface brushes really pick up the dirt. One loosens the dirt and the other picks it up. It does not matter if it is a hardwood floor or a carpet. This device will get the job done. It even has a sweeper that can remove debris hiding against the wall. There is nowhere that dirt can hide from this little dirt monster.
If you are worried about it driving right off a cliff, in other words fall down the stairs, don't. The Roomba 690 has a full suite of sensors that give it the ability to make over 60 decisions per second based on the input from these sensors. Which mean, not only can it navigate around the obstacles in your home, it also won't drive itself down the stairs.
Should repairs be needed, iRobot sells authentic replacement parts for parts that might need to be replaces. We like this because it really extends the life of your robot vacuum. We believe this is very important for any best robot vacuum we review. iRobot stands behind their products.
If you are not convinced the iRobot Roomba 690 vacuum is right for you, then check out our Best Robot Vacuum post.
Originally posted on bestamount.net by Chris Meade