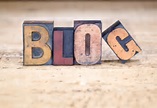 What is one of the easiest (yes easiest) and best ways to drive visitors to you website? How can you get people there to buy your products or see the advertising banners you have on your site?
Blogging. That's correct, blogging. Best of all you can do it about anything you want. The problem is do you know how to successfully blog? A successful blog can quickly build an audience that will support your site.
Using the correct style will instantly make people take notice of your work.
Don't know how, not a problem you can learn. Writing is not difficult to teach, at least not blog

writing. Remember you are not writing your college dissertation, you are writing to average people that like a conversational style when reading blogs. Just write like you speak. That is not to say there is not an art to it. Only that with proper coaching you can easily learn how to effectively blog.
You need to know the small things like.
How adding a word or two will increase your click through rate.

How the length of a paragraph can keep your readers with you.

How subheadings keep the reader's attention.

Plus many more things that might seem small but make a BIG difference.
We are offering the following training:
How to bring writing out of the dark ages.

How to write with power and authority.

How to turn a lousy draft into a classic post.

How to craft 'Juicy' writing.

How to add spice to your writing.

How to add drama to your writing.

Secrets of writing irresistible headlines.

How to polish your work to perfection.
This is the perfect training if you want to move your blogging to the next level.
But that is not all. We will also teach you about
Easy Twitter Mastery.
Traffic Avalanche Strategy.
Self-Editing Tips