I previously reviewed Throne of Storms – Identity Lost by this same author and liked the book. Therefore, I decided to read some more of their books.
Cord McCoy – The Case of: The Hanging Teacher is completely different from Throne of Storms. This is a detective/mystery novel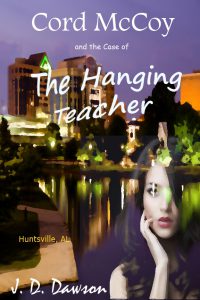 which is actually quite funny. The main character is Cord McCoy (I bet you could have guessed that). I can best describe him as a rich kid want a be private detective. His best friend works for the police department which is probably the only reason Cord gets to play at detective.
The book is set in Huntsville, Alabama. You do not see many books set in smaller real cities so that is kind of refreshing. The banter between Cord and Jake Reed (Cord's friend) is funny and refreshing. But the best parts are when the numerous women in Cord's life make their appearances. Poor Cord, he tries so hard but does not have a clue.
Beyond the funny parts the overall story is pretty good. I do not want to spoil it for you but it was put together in a logical format leading to the capture of the bad guy. A few twists and turns along the way and a cliff hanger at the end which makes me think there will be more books in the series. I hope so, I like Cord's character, I would also like to see Jake Reed's character fleshed out more. Maybe a different book?
Below is the summary on the back cover of the book:
"Cord McCoy isn't your everyday conservative, womanizing, gun carrying private detective; he is also rich. Cord along with his best friend, Huntsville Alabama police detective Jake Reed, respond to an early morning call at an upscale hotel near downtown to investigate a dead body in one of the rooms. If Cord can keep his mind on the case they have an excellent chance of sorting through the suspects and the twists and turns of the case. However, the unexpected return of Jake's sister, Nicole, might just prove to be Cord's undoing. If not, there is always the new Assistant District Attorney, Jessica Martes, and her secret agenda which might tear down Cord's perfect world."
Pros:
Cool title. The Hanging Teacher.

Funny interaction between characters.

Decent size. Not so big you feel it will never end but long enough to develop the characters and story.

You can relate to the characters.

Believable storyline.

Average or above mystery to be solved.

I did not guess who did it until almost the VERY end.

Cliff-hanger ending. Not sure, maybe this is a con? I do hate those, especially if the next book is not out yet.

Set in a smaller city.
Cons:
Editing and spelling issues from time to time.

I like the cover but … something just seems to not be quite right about it. Maybe it is just me?
Overall I can recommend this as a light read if you have some time to spare. It is priced well for what you get.
If you want to check out other books by this author go to: www.jddawson.net