Ways to Make Money online in 2019
Let's talk about some ways to make money online in 2019. There are lot's of get rich quick schemes out there, most of what, OK all of which are scams.
Listen, you can make money online and there are a number o legitimate ways to do it but thinking that you are going to win the lottery by paying someone $2,000.00 for they 'secret'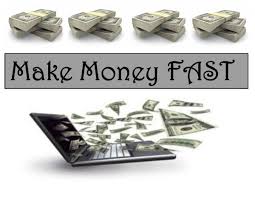 course and then all of a sudden you will be making $100,000.00 a day is just not realistic.
I was watching a video the other day that one of the 'gurus' put out saying that you can make big money online with no inventory, no work and starting for just $5.00 per day. Of course, this did not include the $2,495.00 you had to pay them for the course teaching you how to do all of this. I watched the entire webinar with an ever growing sense of disbelief. They even included testimonials from some of their 'students' that were making $5,000.00 per day!
Now, we did that math and that means they were making $1.8 million per year which is over $18 million in ten years of profit!
Come on. Really?
So, we wanted to take an opportunity today to talk about some actual ways you can make money online. Probably not $5,000.00 per day. But, that you could turn into a full time income over time.
You can build a Niche related blog. With good content you can grow a blog to a huge size and then either make money using advertising or make more money through affiliate marketing. We love this method so much, that we even wrote an entire book about it. Check it out by CLICKING HERE.

Amazon Associate. Probably the best way to build an income using Amazon Associates is to start a website based on "Best of" or "Reviews" of particular products. You can then use these reviews or best of posts to direct people to the actually products using your Amazon Associates links. You don't make much per product but it can add up over time, especially as your web traffic increases. Don't underestimate how much a $1.00 here and a $1.00 there can add up to as your traffic grows from 100 visitors per month to 1000 visitors per month to 10,000 visitors per month. It adds up much faster than you think.

YouTube Channel. Building your own YouTube channel to make money is almost just like building a blog to make money. Just instead of writing your blog you video it. Choosing content and keyworks works about the same way as writing a blog would. There are some different tools you can use that are exclusive to YouTube as your grow your channel. You can monetize it a couple of different ways using Google Adsense, Amazon Associates or other affiliate type links. We like this method pretty well, we even wrote a book on it if you want to know more. CLICK HERE if you want to know more about our book.

Start your own Podcast. To us this is similar to a YouTube channel but you are going to have to be prepared to spend a lot more time at the microphone and you a good way to interact with your audience. This will probably take more of your time than a YouTube channel but it can be easier to monetize if done correctly. We like to think about this like running your own radio station or radio program. You are the radio personality and you will have your 'topic' for discussion like a talk radio program. You can record these for broadcast but over time you will probably find that a live program will get more interaction which will help you grow your podcast. Of course, you can record your live podcast for rebroadcasting.

Sell Ebooks. Do you like to write? If so, you can write and sell ebooks on Kindle without too much effort. By this we mean it is easy to upload the ebooks. You still have to write them and after you put them up on Kindle there are still a number of tasks you have to complete. Primarily related to promoting your books. They won't sell just because you wrote them regardless of how good they might be. You are going to have to put some effort into advertising them thought various methods. One really good one is to write books that tie into the content on your websites, blog or YouTube Channel.

Fiverr.com is one of a few sites we like to make income using skills you probably already have. Fiverr is a site where people hire freelancers to complete tasks/jobs for them. You can be paid to do just about anything you can image. You can get paid to write content, design book covers, transcribe notes, write code and about a thousand different other things to make money as a freelancer.

Upwork.com is another site just like Fiverr. We have found that we have to pay more money to the freelancers we have found on Upwork but typically the quality of what we have received is better. It is harder to find freelances on Upwork as compared to Fiverr so we would recommend Fiverr over Upwork, but there is no reason you can't do both.

EpicWrite.com is a site for freelancers dedicated just to writing. If you like to write you might be able to get a job writing an entire book as a freelancer on Epicwrite. We have used EpicWrite a few times with good results as far as quality is concerned but sometimes, they are a little slow.

Ewritesolutions.com is another site like EpicWrite. If you are a writer then check out both EpicWrite and EwriterSolutions.

Start an online consulting service. This does require some more specific skills, perhaps even more than those required for Fiverr or Upwork. However, if you become an expert Facebook or Google Adwords advertiser as a result of promoting your other activities, you can sell that expertise to other business. Take advantage of your knowledge.

Online Courses. Do you have a lot of knowledge in a particular area? Have you been building your website or blog on a particular niche and are now an expert? Turn your expertise into an online course. Just like ebooks this can be a huge long term passive income stream after your initial investment of time and effort to design the course. Yes, this does take a lot of effort to get started but it can make you a huge amount of money if done and marketed correctly.

T-Shirts on demand. Are you good at graphic design? Then you could start your own T-Shirt on demand company with very little effort. There are a lot of companies out there that will not only print and ship your T-shirts, they will also help you set up a store to sell them from. You can also use a website like Shopify if you want a more professional looking store. There can be a lot of money in these types of shops but you will have to advertise through social media, Google or Facebook so people will know about your cool t-shirt designs. Just like writing an ebook, just because it is good does not mean any people will actually see it. You have to do something to bring in buyers.

Work part time for different companies. Just like the freelancing we wrote about above there are websites you can go to such as flexjobs, solidgigs, staff.com, etc that will let you pick up part time work. This is more like a real job but many of them can be done online from home.

Narrate Audiobooks. Can you read well, have a nice voice? If so, with a reasonable investment you can record audiobooks for a pretty good income. Especially for the time investment required. You will have to make sure you can record the books to the exact standards required for audiobooks, but once you get the equipment and know what you are doing you will stay busy.

Micro-Jobs. This one was a little new to us when it came to making money online but we though it was really cool. Basically, Amazon Mechanical Turk, lets you find quick tasks you can complete and get paid. We are still playing with this one ourselves, but you should check it out.

This can be a great way to start your own online business selling products. You can find products from a variety of places and sell them on an online store through sites like Shopify. Many people have started these types of stores and some have don quite well, just keep in mind, just like the t-shirt store we described above, you will have to advertise your store in some way. Just because you make a great looking store with the coolest products in the world does not mean anyone will actually see it.

You remember the webinar we described in the beginning? Well it was using a strategy similar to ClickBank where you sell other people's courses or products as an affiliate marketer. Yes, if you pick right product and do the right advertising you can make money as an affiliate for sites like ClickBank, but it does take some work and some knowledge on your part.
We could keep going, but like the 17 ways to make money online in 2019 we have here. This will give you a great start here in 2019 and beyond because we would expect most of these to grow and become even better in the future.
If you want to know more about ways to make money online, check out our free to sign up for course below. We will also let you build a couple of websites for free as you try out what you learn.

Good luck in 2019 making money online.